Description
Ships directly from the US within 3-8 weeks!

FARTHER, FASTER, LONGER, LIGHTER! BigBattery's 48V 1.53 kWh LiFePO4 EAGLE (EAGL) battery was designed to take your golf cart to levels you've only dreamed of.
The EAGL is our top selling golf cart solution for a reason. The EAGL provides safe, reliable power for your 48V carts. Whether you're ordering 2, 3, or 4, you'll see increased range, greater acceleration, and longer lifespans compared to the antiquated lead-acid batteries you have now.
Plus, the EAGL is designed to serve as a mirror-image replacement for a standard T-105 lead-acid battery so you won't have to modify your battery tray to accommodate your EAGLs. You'll be shaving off huge amounts of weight due to the reduced amount of batteries required and lithium's increased power density. Pick up a set of EAGLs today to upgrade your cart, and upgrade your game!
Disclaimer: One Eagle does not have enough power for a golf cart. The single eagle battery is intended for a range of power upgrades to the Eagle Kit. Please compare the Continous Power specs on the Eagle kits to your motor and controller in order to properly size your battery kit. Overworking the battery outside of specifications will void the warranty.
Specs
SKU: AEAGL-48015-G1
System Voltage: 48V
Nominal Voltage: 51.2V
Chemistry: LiFePO4
Charging Voltage Range: 55.6 - 58.0V
Max Charge Voltage: 58.8V
Operating Voltage Range: 43 – 58.8V
kWh Capacity: 1.53kWh
Ah Capacity: 30Ah
Cell Configuration: 16S
Max Continuous Discharge Current: 80A
Max Continuous Power: 4000W
Max Discharge Peak Current: 180A (6 Seconds)
Max Charge Current: 80A
Charge Temperature Range: 0°C (32°F) / 55°C (131°F)
Discharge Temperature Range: -30°C (-22°F) / 55°C (131°F)
Optimal Discharge Temperature Range: 15°C (59°F) / 35°C (95°F)
Storage Temperature Range: -5°C (23°F) / 35°C (95°F) (Max 6 Months)
Weight: 38 lb (17.2 kg)
Depth: 10.2 in (25.9 cm)
Width: 7.1 in (18 cm)
Height: 9.2 in (23.4 cm)
Safety Features: Breaker (100A) & Battery Management System
(Over/Under Voltage, Over Current, &
Over/Under Temperature Protections)
Max Connections: Up To (8) Parallel

Spec Sheet Download: Click Here
Product Manual Download: Click Here

Designed For 48V Applications:
✅ TROJAN T-105 EXACT REPLACEMENT
✅ INTENSE HEAT AND COLD
✅ LEAD-ACID UPGRADES
✅ COMPACT STORAGE
✅ MOBILE POWER
✅ UTILITY CARTS
✅ CAMPER VANS
✅ GOLF CARTS
✅ RVs
Additional Information
| | |
| --- | --- |
| Bundles | 1 Pack -1 x 48V EAGL- LiFePO4 - 30Ah - 1.53kWh + 1 x (1)SB175 to Ring Terminals Cable, 2 Pack - 3% Off - 2 x 48V EAGL- LiFePO4 - 30Ah - 1.53kWh + 2 x (1)SB175 to Ring Terminals Cable, 3 Pack - 5% Off -3 x 48V EAGL- LiFePO4 - 30Ah - 1.53kWh + 3 x (1)SB175 to Ring Terminals Cable, 4 Pack - 7% Off -4 x 48V EAGL- LiFePO4 - 30Ah - 1.53kWh + 4 x (1)SB175 to Ring Terminals Cable |
Reviews
No Complaints!
I finally got my hands on the NEW Big Battery Eagl 48v Lithium battery kit. These batteries are super small and will fit most golf carts with little to no modifications. Since 4 will give 120ah of capacity, I got a range test done with these batteries and they are perfect as they described!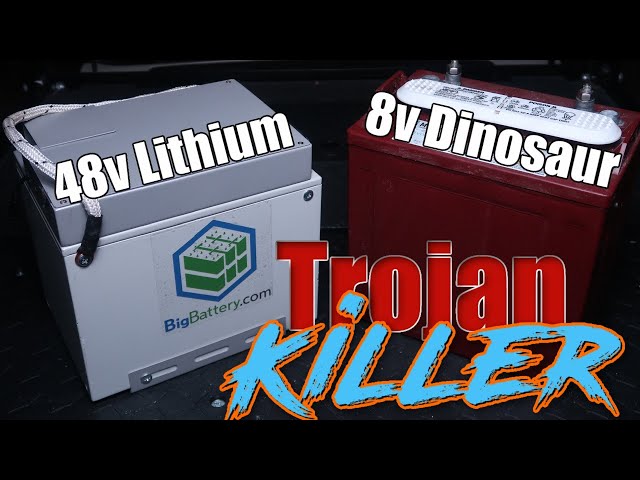 Great product as advertised!
Amazing product, amazing people! The best follow up from a company I could ever hope for! This was a big deal for me to spend this kind of money on a couple batteries, $3000. But they are the best batteries and value in the business. Check out YouTube reviews. Sorry to hear the gentleman who gave a 1 star review had a two month less than ideal experience. I believe him, but it's hard. Stuff happens. But not hearing from them is nothing I would expect. Their follow up on my order was extraordinary. It's as if they knew how big a deal $3000 was to me.